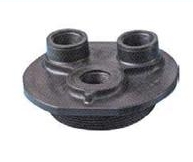 CXTA452
XTA-45-2 Manifold Assembly
Manifold, no fill port or inlet screen.
Fits Standard mineral tanks with 4 1/2 inch openng.
Retail Price : $82.81
Our Low Price : $65.15


---
Injection molded ABS with 4-1/2 inch-8 tank buttress thread, 1 inch inlet and outlet, 1 inch riser opening 3/4 inch no fill port, no inlet screen.
---
Related Categories
See All :