Pura Ultraviolet Sterilizer Systems and Replacement Parts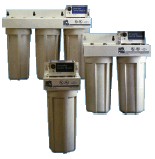 Patented Pura water treatment systems are designed to provide microbiologically safe water. In addition to disinfection water is filtered through Carbon Block filters. Select from a wide range of products for whole house or point of use applications.

These UV systems are for flow rates of 1 to 10 G.P.M.